Grace church has something for all ages, including junior and senior youth.
Our Jr Youth Group (grades 7-9) usually meets every Tuesday evening.
Our Sr Youth Group (grades 10-12) usually meets every Monday evening.
I would love to meet you, and help you join our youth group!
Coming up in Youth Ministry…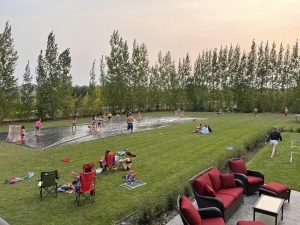 It is our goal to see our Jr & Sr Youth groups grow in relationships with kids, leaders and especially Jesus. We have planned all kinds of different things to help make this happen. Leaves are changing colors which means fall is coming. With that comes change in the lives of our kids too. A new grade, a new teacher, a new school, new friends… even the youth group sees some changes but for the most part we try not to change too many things. As we move into fall we plan to run our Tuesday Jr Youth nights from 7:00-9:00pm for a while to see how this works for us. We also want to invite those that are starting grade 7 to join us. And those of you that are starting grade 10 should join our Monday night Sr Youth group. We usually meet from 7:00-10:00. I would also like to mention 2 weekend retreats that we plan to attend, 1 for Jr Youth and 1 for Sr Youth.
For more detailed info check out our September Calendars and the retreat forms.
Have a look at our:
Retreats
Sr Youth Oct 20-22 Millar Retreat Form
Jr Youth Sept 29-Oct 1 Nipawin Retreat Form
If you want to contact me (Brent Klassen), or would like prayer, my cell phone is 281-3091 or you can use the contact page on this site to send me an email.